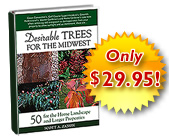 Select the most desirable trees for your property, no matter its size! This one of a kind reference book is perfect for homeowners, home gardeners, master gardeners, grounds professionals, horticulturists, arborists, golf course superintendents, golf course architects and green committees.
Introducing Desirable Trees for the Midwest - 50 for the Home Landscape and Larger Properties, a professional, concise and extremely valuable reference guide. Preview 25% of the book on this site and enjoy 50 of the 250 color photographs. I'm sure you'll find it so appealing and informative that you'll want to purchase the book for yourself, but it also makes a great gift.
— Scott Zanon
What is a "desirable" tree? Simply a tree that in its youth and maturity is worthy of the owner's expectations.